European tech in 2015, and the future of the Class of '15
The European 'Series A' crunch is gone, so what does the future hold for the Class of '15?
After years of complaints about there being a 'Series A' crunch, Europe has resolutely turned a corner with a reported 338 of the 1,000+ venture deals in Europe this year being Series A. But what will the next 4 years look like for the Class of '15? Some historical analysis suggests $5B more capital raised, $50B in company value created and a lot of bumps on the way.
What a 'Series A' is exactly is changing. It used to mean the first institutional funding, but now with super-angel, crowd, seed and stage agnostic funds, Series A is probably better defined as a funding round in the range of $2M-$10M with the median this year being $3.3M, although there are exceptions ( LetGo raised a $100M Series A after barely launching….).
So what will the future hold in store for the class of 2015? By applying some historical performance metrics we can start to get a sense of what the European tech-scene may look like over the next 10 years for these companies.
The first thing to say is congratulations. Around 90% of all tech companies that are started fail before reaching Series A, so you are already out-performers. But what happens next? Series A funding rounds normally fuel a company for 18 months, which means if we look at the class of 2013 we could take a guess at some outcomes.
While the companies that haven't raised or exited 2 years after their Series A aren't necessarily dead ( they may even be profitable! ), I think 35% is a fairly accurate percentage for the follow-on rates of raising a Series B after your A.

And what does that Series B look like? While this varies with sector, Silverpeak forecast the average for Series Bs in Europe this year to be $12M, but with 113 raises, this means the class of 2015 are going to be after a further $1.35B in funding by 2017. This is 35% higher than the current $1.0B raised by Series B companies in Europe last year. So where will you be getting this cash from?
At Series B, you are still likely to find some local investors that can lead your round. Index, Accel and us at Balderton have all written cheques well above $12M this year, with new funds raised by Highland Capital and Fidelity also likely to help. However as the chart below shows, 36% of $20M+ rounds are still led by US based funds, and so you may have to start making connections with global players soon.
% European investment rounds led by U.S. funds (EVCA, 2104)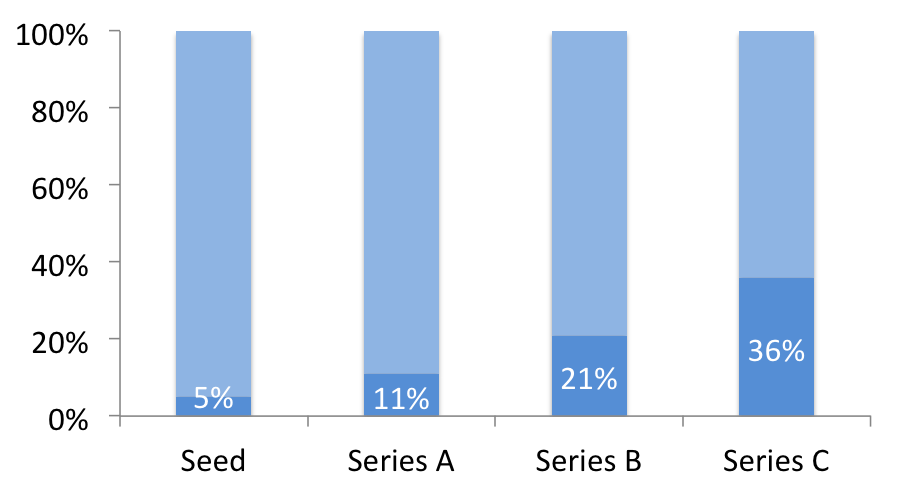 By 2017, the class of 2015 will be a little leaner, but be sitting on plenty of cash to last another 18 months, and those that are executing at pace may be able to raise even quicker than that. Deliveroo managed to raise it's $70M Series C just 6 months after its Series B. But what does the average look like?
Applying the success rate of Series B companies in 2013 to today, suggests that by 2019, we will have 53 in the class of '15 that raise a Series C, a little under 1 in 6 of our companies left.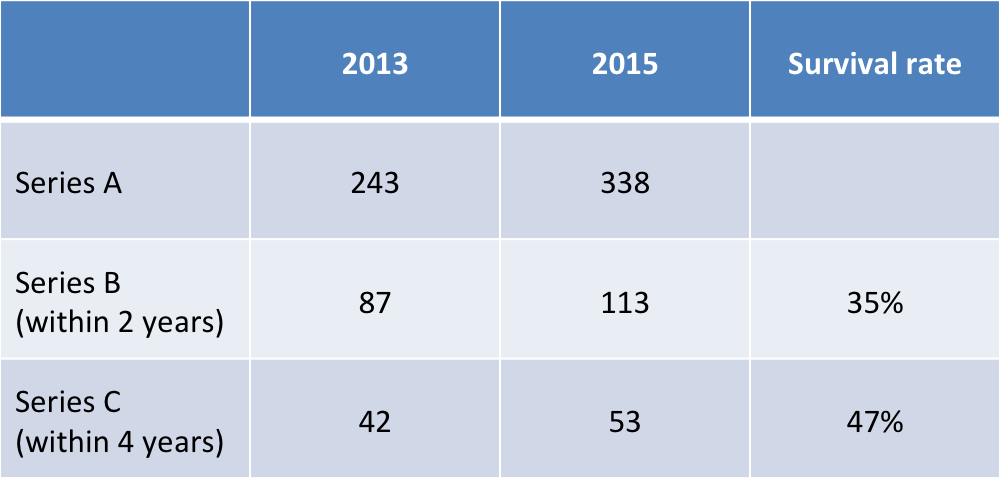 By this point there will also have been some successful exits as well. Of the 158 companies which raised a Series A in 2011 ( yes, the market has grown by 2.1x ) 29 have exited via acquisition or IPO. While these are usually exits of a size few venture investors get excited about, it's still an important part of the market.
And what comes after that? We hope it's profitability and a long reign at the top of your market. However for some companies, there is a final series of mega-rounds as they attempt to solidify their position at the top through M&A and global expansion. Here the numbers of companies become so small that a forecast seems a little disingenuous. It took Spotify 7 years from their Series A in 2008 to raise over $1B. At the same time, DeliveryHero was able to raise capital at that level within 4 years of their Series A.
One rough method is to extrapolate from Series D+ rounds raised by companies who also raised Series C+ in 2013. Doing this suggests that the very largest companies in the class of 15 will raise at least $2.5B in mega-rounds, up by 25% from 2013.
Adding all of this up, what does it mean for companies and investors in the space today?
We're going to need more money.
A growing number of companies raising multiple rounds means a greater requirement for follow-on funding. Applying these growth rates to each round, and assuming no drastic shift in the average round size means that the class of '15 will likely require $5B in external funding over the next 8 years. That's 20% more than the total annual funding for all Series B, C & beyond rounds in Europe this year.
You have to create $50B worth of companies.
And what will you, Class of 15, have to do to justify all of this investment? Well with a total of $5B follow-on funding required, on top of the $1B already invested in you at Series A, you will have to build companies worth around $50B between you to keep the European funding ecosystem alive. Yes, that's right, $50B. That's 6 Spotifys between you.
And why is that? Well investors will be looking to make at least 2x their money on average to stay in business. If in total they invest $6B and aim to return roughly 2x or $12B, and end up owning around 25% of your company, then you need to build companies worth almost $50B.
There are other ways to be successful.
You don't have to jump on the conveyor belt to raise more and more funding. We look for companies which could make it to profitability should they wish too, but raise funding to invest in growth to create more value in the long run. However this isn't the only route to success, and before embarking on your next round, I hope the statistics above are of some use.
NB. Data based on Crunchbase and Mattermark